Inman Connect New York 2017 Recap
Our industry kicked off a season of great real estate conferences with Inman Connect New York. Hosted by Brad Inman and Inman News at the Marriott Marquis near the world famous Times Square, Inman Connect 2017 played host to some of the industry's best influencers, speakers, and top performers. Held from January 17 through the 20th, we had the pleasure of meeting some of the brightest minds in the industry and showing off Chime to the thousands of agents, brokers, techies, press, and lenders in attendance.
If you were unable to attend, we put together a recap of Inman Connect New York to highlight what we learned, who we met, and what is happening to real estate finance, leadership, and tech. We've also put together some highlights of our favorite social media activity thanks to social team, who saw incredible engagement from the community during the conference.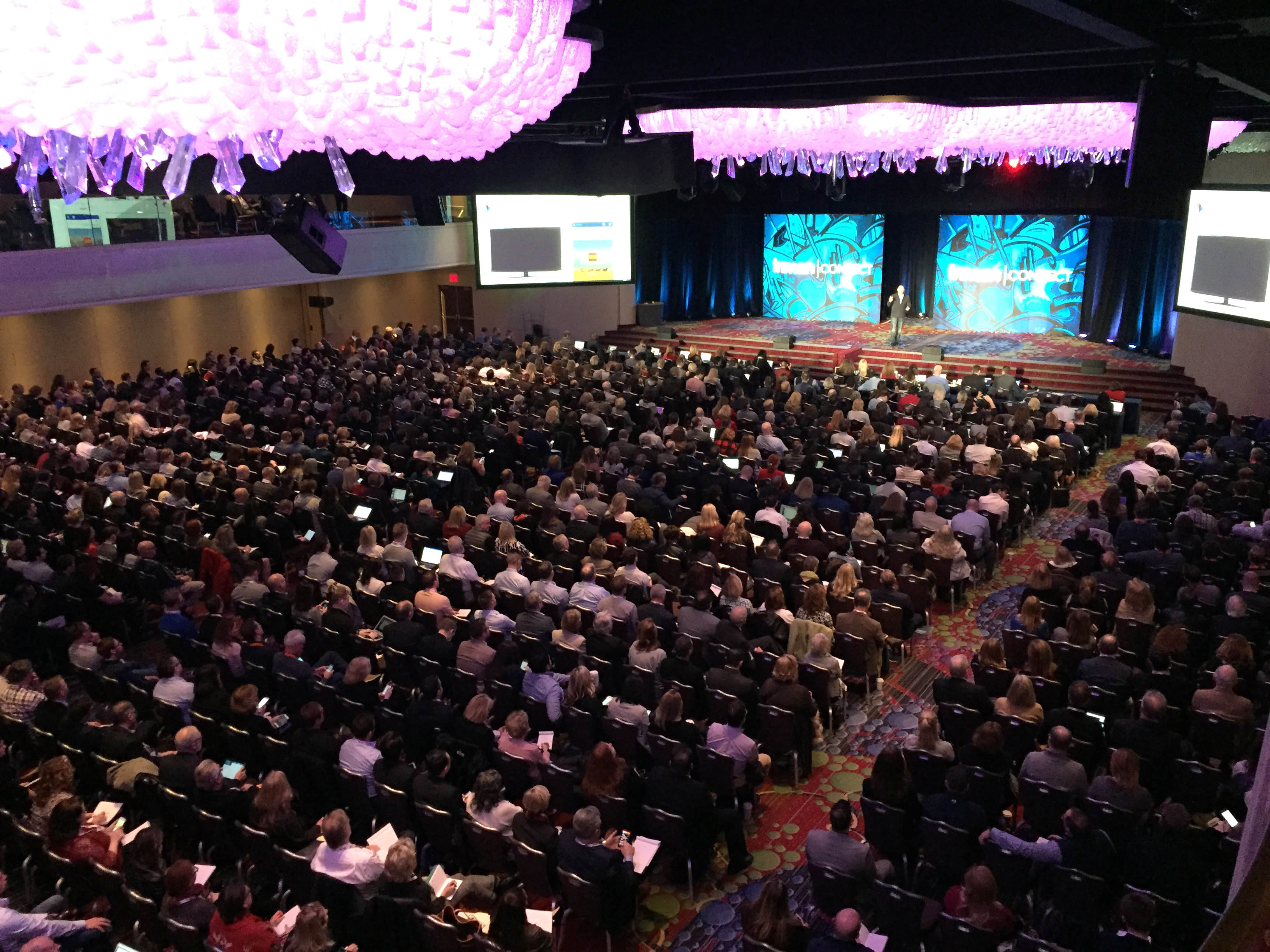 For agents, the most value from Inman Connect came from the lineup of incredible speakers. We attended a wide variety of breakouts, panels, and Q&A's to give you a custom curated collection of key takeaways.
On the first day of Inman Connect, Scott Shapiro, Senior Client Partner with Facebook, gave us an excellent rundown on social media marketing and Facebook with his speech titled Facebook for the Win: How to Crush it with Facebook Ads and Marketing. From Scott, we learned that 40% of consumers abandon a website if it takes longer than 4 seconds to load and that  92% of homebuyers start their home search online. Thankfully, Chime's IDX websites are lightweight and designed to load quickly!
Next, we learned from Ashton Gustafson, Owner of Bishop Realty Group, on how to invest in your expertise to boost sales in his speech titled Five Tried and True Ways to Increase Sales This Year. We learned the value of being an expert in our communities because local data is more powerful than national data. Ashton went on to stress the importance of nurturing leads, networking, and being active in your community as 80% of people last year picked an agent based on personal recommendation.
Later in the day, we attended Michael Meier's presentation titled Get Liked! Here's the Facebook Posts that Will Generate the Most Attention. As the owner of MEIER Real Estate with a strong social media presence, Michael is no stranger to social media engagement. "Ask yourself before each new post: Is this an authentic moment that will give value to my audience," Michael told us. He went on to say, "engage every like, smile, and comment. Likes and hearts on your facebook posts are support from your audience. Show them you appreciate their support by replying with personalized messages."
Laura Monroe, the VP of Industry and Strategic Development with RealSatisfied, taught us how to solidify our brands and protect our reputation in her speech titled Stop Ruining Your Reputation: The 15 Minute Digital Brand Detox. From Laura, we learned that "[our] reputation is not found on Zillow or Google. Your reputation is found in your personality and presentation."
We ended the first day with a special panel featuring our CMO Matthew Murphy. In attendance were other industry influencers including Ben Weber, Anthony Self, Pete Crowe, and Luke Acree. Connecting the Dots to Create the Ultimate Consumer Experience taught us the importance of delivering the right way to engage with your current leads and even past customers, including the right tools you can use to handle the job.
Wednesday began with a special presentation from Brad Inman, founder of Inman News, including a surprise on-stage engagement between two panel members in attendance! Brad highlighted the importance of delivering on demand services in today's age in We Are In The Future: Now What? Although Brad drove home the importance of integrating technology and real estate, Brad also taught us to "Start thinking of your business as multiple connections. Your community is your greatest source of connections. This community here will lift you up when you are down and cheer you on when you are up."
With the Women's Council of Realtors California kicking off today, we felt Sallie Krawcheck's speech on Own It! The Power of Women at Work resonated the strongest out of all the presentations we attended. As the CEO and Co-founder of Ellevest, Sallie is no stranger to forging her own path to power despite insurmountable discrimination in the workplace. Sallie taught us that "when we add women in positions of power, you see greater innovation, lower risk, and higher return on investment." In addition, Sallie went on to say "women in the workplace have holistic decision making, greater risk awareness, and avoid short-term gratification which has a profound impact on long-term ROI."
We ended our presentation coverage with a speech from Rand Fishkin, the founder and former CEO of Moz, to cap off marketing advice. As the expert in online marketing and SEO, Rand outlined actionable strategies to become "big fish in a digital pond." According to Rand and data from Moz, the top five real estate websites are only taking 17% of all real estate related traffic. In order to compete with aggregate listers like Zillow, Rand taught us the importance of using long tail keywords in the content we publish on the web. In addition, Rand went on to say we need to rethink how we design emails and other digital marketing campaigns as mobile readership surpassed desktop in 2015.
Take a look at some behind the scenes photos from the Chime team!
Our social media team was also on fire engaging with influencers at Inman Connect, including recruiting heavily with our highly coveted Chime socks!
Hey #ICNY, here's the plan. Step 1 – come to booth 3. Step 2 – show off your Chime socks. Step 3 – enjoy drink tickets on us! @InmanConnect pic.twitter.com/PEr7QS1snC

— Chime (@ChimeCRM) January 19, 2017