Lead Nurturing
From first touch to close, we make relationship building easy.
Lead Routing
Our lead routing engine can automatically route leads based on type, zip code, budget, source, and more. We support "round robin" routing for equal lead distribution, and the "blast alert" rule, which puts a timer on lead assignments before they're passed on to more active agents. Find the best fit for your team, so agents stay busy and leads stay engaged.
Smart Action Plans
Develop and deploy automatic workflows with our automated Smart Actions. Set workflows based on lead type, source, pipeline, and lead activity. Our action plans are dynamic and reactive, the more you customize and the more features you involve, the more fluid your workflow will be!
Team Management
You can't be everywhere at once, and thanks to Chime's accurate team engagement reporting, you don't have to be. With a bird's eye view of your entire team's outreach and communication output you can easily remind agents of upcoming appointments, point someone in the right direction, or keep track of who your team's next all-star agent will be. You can rely on us so your team can rely on you.
Listing Alert
In some markets homes move fast — very fast. Our CRM is faster — we make sure to match up buyer leads to new listings that fit their profile automatically. We handle the matchmaking, so all you have to do is make the introduction.
Market Reports
We make sure customers know you're an expert who's up to date and informed on their area with custom market reports. Schedule distribution so customers are reminded that you're focused on their area and working for them.
Save Time
Work smarter, not harder, with our time-saving, intelligent solutions.
Automation
Chime is the first CRM that actively works with you to improve your workflow, and, more importantly, your efficiency with automation. With our adaptive Action Plans you can set conditions for future actions involving our Dialer and send out Listing Alerts or Market Reports. You can even pre-program messages to be sent out when certain conditions are met. With all the automatic processes in place, you can invest your time better, and focus on the customers who are likely to close.
Dynamic Lead Scoring
When a lead enters your CRM, we automatically assign it a score based on contact validity, pricing, and online behavior. This score is dynamic, shifting based on lead behavior and agent feedback. Prioritize leads with a higher score for a higher chance to close!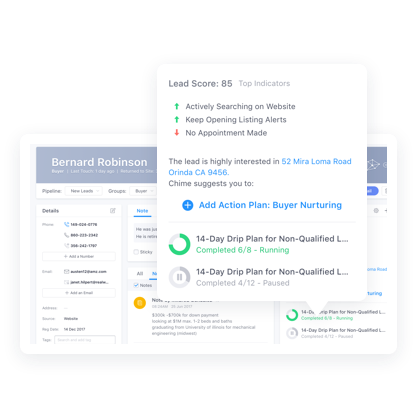 Forecasting
No crystal ball? No problem. Chime's AI can factor current agent performance and aggregated historical data into our forecast algorithm to develop accurate performance predictions, and even make intelligent suggestions on how to improve.
Improve Workflow
Our integration with top real estate software makes adding Chime to your workflow easy.
Auto-Import Leads
Bring all your leads together in one convenient place for easy and efficient management. With our auto-import feature, you can enjoy touchless migration of leads into Chime from third-party providers such as Realtor.com, Homes.com, Zillow, Redfin, RE/MAX, Trulia, Bold Leads, Flipt, and more.
Streamline Transactions
Paper is so last-century. Tap into Chime's powerful integrations with Dotloop and Brokermint, to smoothly complete all your real estate closings with seamless, paperless document signing services. Easily track all your transaction data directly in Chime (Reporting tab -> Business Summary). (Stay tuned: SkySlope and zipLogix coming soon!)
Email and More
Do you love the email platform you've been using for years? No problem! You can keep using it for as long as you like, because Chime supports Gmail, BombBomb, MailChimp, Microsoft Exchange, Google Calendar, Zapier, and many other tools you're already familiar with.